It may seem odd to write a post on cat gifts when we do not have cats of our own....but, stay with me.  Like many of you, we have family and friends that are cat lovers and we sure do enjoy giving them gifts!  
The love our family and friends show their cats inspired us to design our own cat and kitten t-shirts (NJ3)
We recognize, though, that our t-shirts are just one cat-lover gift option.  Below, we've compiled a list of 10 great gifts for cat lovers that we know our family and friends would love.....not just any cat-toy or t-shirt will do... these are unique, stylish and practical gifts!  
Cute Knit Gloves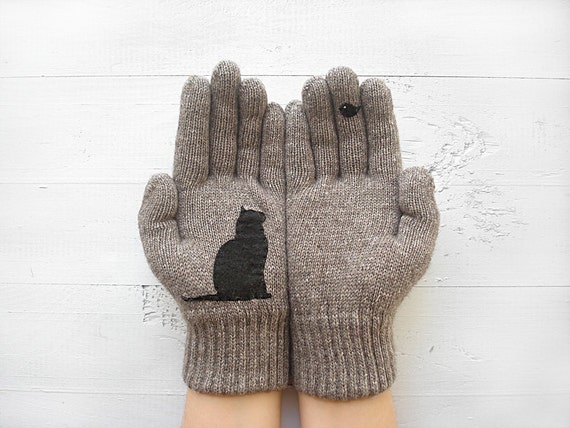 These adorable gloves,  from talkinggloves Etsy shop, are handcrafted and make a perfect gift for cat lovers!  Made from a wool blend, these gloves are warm and soft.  With a variety of colors and styles to choose from, these gloves are sure to please the cat lover in your life. 
Cat and Yarn Pint Glasses
Kudos to Patricia Carlin for capturing and portraying such a moment on pint glasses!  As we all know, cats and yarn do not go well together.  These glasses depict just what happens when curious kittens meet with knitting materials, making for a cute and funny design.  This set of 4 glass tumblers are made in the USA and make for a super fun and practical gift for a cat lover.  
Cat Doormat
What a great way to welcome visitors! This cat design doormat is subtle, yet adorable and attention grabbing.  This doormat by Entryways is made of all-natural, durable, coconut fiber.  The design is hand-stenciled and fade resistant.  A fun way to decorate your entryway!  
Cat Notecards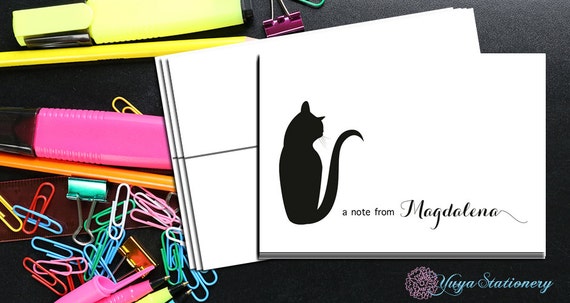 These adorable, blank notecards come in a package of 12 and are perfect for sending notes to friends and family.  Personalize them for yourself or a friend or loved one.  With 45 fonts to choose from and different colored envelopes (extra cost) you can really make these a unique gift!  
Cat Measuring Spoons
These stoneware measuring spoons are adorable and puuur-fect for a cat-loving baker!   A great wedding gift, too!  
'Impress Me, Human' Cat T-Shirt 
This design by 'louros' made me laugh out loud!  I've seen this snarky 'cat look' before and think the saying is perfect!  This design is available on 37 different items.....from t-shirts and hoodies to coffee mugs, prints and notecards.  There is something for everyone!
Mini Cat Bracelet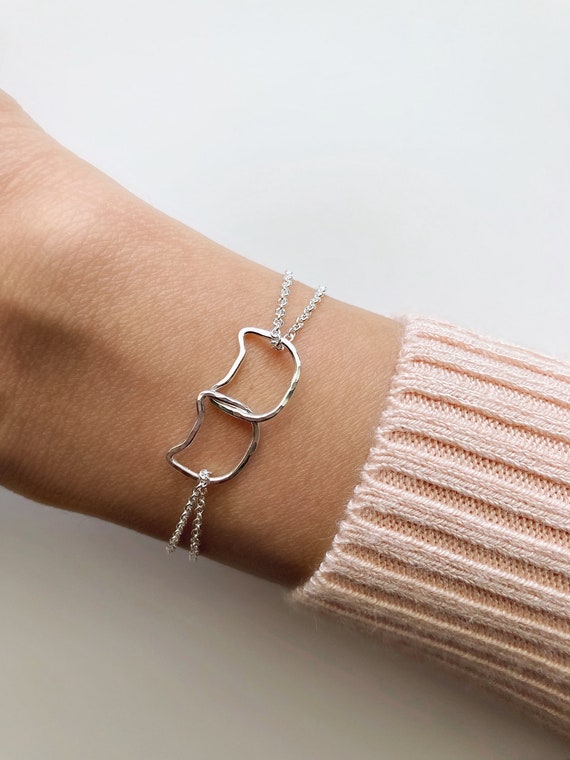 This bracelet is beautifully simple and classic...showcasing your love for cats, but not being gaudy or showy.  On luckeelovestudio, you can customize this bracelet by material (gold, rose gold, silver) and by size.  The adjustable end chain can give you an even more perfect fit!  This shop owner also has a collection of cat items, including rings and earrings.  
Funny Cat T-shirt

When t-shirts make me laugh, I know I've found a good one!  This shirt reminds me of watching a cat in our backyard.  The cat chased a squirrel up a tree and then found itself clinging perilously to a high branch.  We couldn't take our eyes off of this cat, wondering what it was going to do from such a height!  To our amazement, it let go, fell to the ground and ran off!  Crazy cat.  
Cat Pillowcase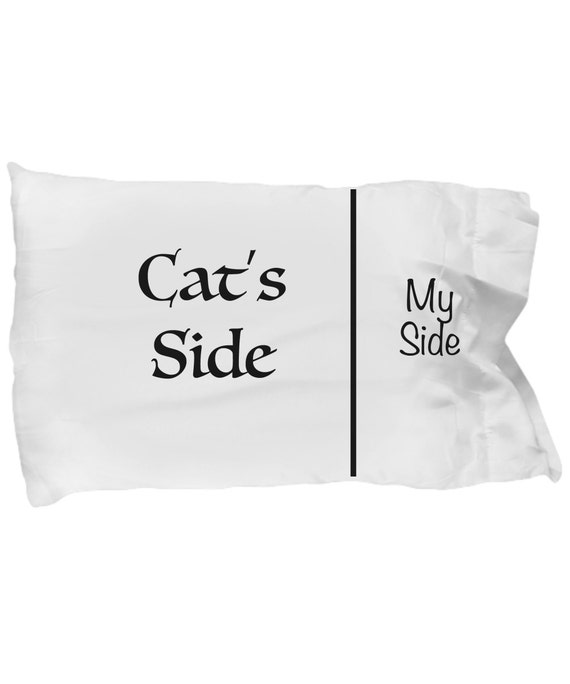 via Etsy
This pillowcase speaks the truth....at least from the cat families that I know!  Stories about how the family cat sleeps with or wakes up their owner always amaze me!
Cat Crib
Who doesn't love a hammock?!  Hammocks are all the rage and why not for your cat, too?  This Hammock Lounger by Cat Crib would be a great spot for your cat to hideaway or nap most of the day! 
 There you have it-10 great cat gifts for the cat lover in your life!  These ideas are going to make my holiday and birthday shopping much easier this year and I hope it simplifies things for you, too!